Joanna A
Nellie Boot
Nellie Boot
Your newest go-to boot of the season - caramel suede, western inspired stitch embroidered detail, & point toe make for a versatile & chic finish to any look!
Point toe
Ankle style
Wooden block heel
Embroidered stitch detail
Suede feel
Fit is true to size
This item will ship USPS or UPS. In most cases orders will ship same or next day, depending on when the order comes in. Shipping is FREE with orders of $99 or more. You will receive an email confirmation upon ordering that will include items ordered, tracking number and  return link.
Please feel free to message us on social media, send us an email at joannaaboutique@gmail.com, or call us during business hours @ 501-547-8352. We will be happy to assist you with questions or measurements.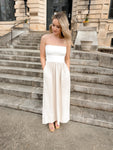 Complete The Look
3 additional products:
You may like these COZY + BRIGHT, too...